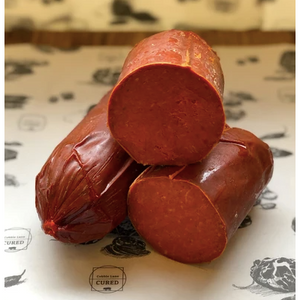 Name: Nduja: Cobble Lane Cured (100g)

Description: Cobble Lane Cured Nduja: Cured in Islington just behind the Hope and Anchor Pub!
Also available is the full selection box of cured meats.
The Company:We love working with a company that shares our home borough of Islington.Cobble Lane Cured say:
"We makemodern British charcuterie using the highest welfare British meats. Our products are all cut, cured, smoked and hung by us, at our butchery in Islington. We believe that combining traditional European methods with Britains superior quality meats, creates a better product: better for animal welfare, better for British farmers and better for eating too!"
*Forallergyadvice please emailhello@nourishedcommunities.com
Delivery Information:
Parcel Delivery:We deliver all around UK every Thursday for

å£4.99.
Click and Collect in Store:Click and collect available every Wednesday, Saturday (10am - 7pm) and Sunday between 10am and 4pm.
*THERE IS NO MINIMUM SPEND FOR COLLECTION.
Our store on 15 Canonbury Lane, N12NS is five minutes walk from Highbury & Islington Station. Other nearby stations are Angel, Essex Road and Canobury Overgroud. We are Open Monday - Saturday 10am - 7pm and Sunday 10am - 4pm.
Own Van Delivery:
Ourvans deliver fresh produce across the following areas ofLondonon Wednesday & Sunday (see areas below). One can also visit us in our store that is Nourished Communities, 15 Canonbury Lane Monday - Saturday 10am - 7pm
and Sunday 10am - 4pm.
Our
vans
deliver across the following areas:N1, N4, N5, E8, N6, N7, N8, N10, N19, NW1, NW3, NW5, NW8and surrounding areas. Want us to come to you? Call us on 07392513293 oremail us on hello@nourishedcommunities.com
For more infomation please give us a call: 07392 513293