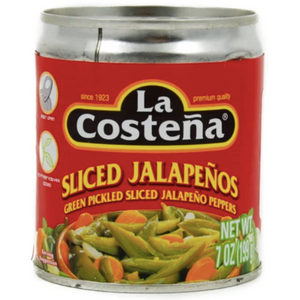 Name: La Costea Sliced Green Jalapeno 198g

Description:These La Costea slices of green jalapeo chilli peppers in a spicy vinegar sauce are a quick and easy way of introducing some Mexican heat to a dish. And can be eaten alone to stimulate the taste buds before a meal.
The La Costea sliced green jalapeo peppers have been pickled in a delicious, sesame oil and garlic mixture which adds extra complexity to the jalapeochillies.The spicy sweet taste is a distinctive, South American flavour which enhances a wide variety of Mexican and Tex Mex dishes. Try adding todips, salsas and bean salads as well as sneaking a few jalapeos inside aburger or on top of a pizza.
Ingredients:jalapeo peppers, water, onions, carrots, vinegar, iodized salt, spices &soybean oil.
*Forallergyadvice please emailhello@nourishedcommunities.com
Delivery Information:
Parcel Delivery:We deliver all around UK every Thursday for

å£4.99.
Click and Collect in Store:Click and collect available every Wednesday, Saturday (10am - 7pm) and Sunday between 10am and 4pm.
*THERE IS NO MINIMUM SPEND FOR COLLECTION.
Our store on 15 Canonbury Lane, N12NS is five minutes walk from Highbury & Islington Station. Other nearby stations are Angel, Essex Road and Canobury Overgroud. We are Open Monday - Saturday 10am - 7pm and Sunday 10am - 4pm.
Own Van Delivery:
Ourvans deliver fresh produce across the following areas ofLondonon Wednesday & Sunday (see areas below). One can also visit us in our store that is Nourished Communities, 15 Canonbury Lane Monday - Saturday 10am - 7pm
and Sunday 10am - 4pm.
Our
vans
deliver across the following areas:N1, N4, N5, E8, N6, N7, N8, N10, N19, NW1, NW3, NW5, NW8and surrounding areas. Want us to come to you? Call us on 07392513293 oremail us on hello@nourishedcommunities.com
For more infomation please give us a call: 07392 513293