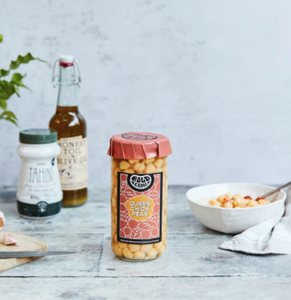 Queen Chickpeas 660g
HOLY HUMMUS. This is the ultimate chickpea. It's tender, GIANT and oh so delicious. This guy goes centre stage of any dish. Crisp them up in the oven for crunchy-on-the-outside, soft-in-the-centre marvels which can go in salads, with fish or as a protein-rich snack.

Ingredients: Heirloom Garbanzo Beans (Chickpeas), water, salt, ascorbic acid. (contains sulphites).