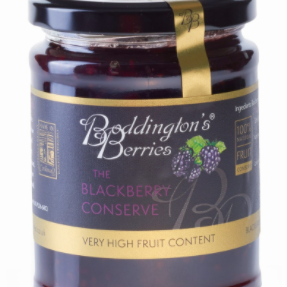 Blackberry Conserve contained in a 340g glass jar.



A wonderfully deep coloured jam, packed with fruit. This blackberry conserve is made with whole fruits (so does contain the pips) and only has sugar and lemon juice added. Wonderful on toast or with a cream tea.

Ingredients:
Blackberries (85g per 100g of conserve)
Sugar (70g per 100g of conserve)
Lemon Juice
Water
Nutritional content, typical values per 100g:
Energy 1265.1 kJ / 297.4 kcal,
Fat 0.3g, of which saturates 0.0g,
Carbohydrates 78.4g, of which sugar 75.1g,
Protein 0.8g,
Salt 0.01g.