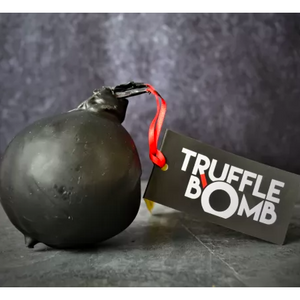 Name: Truffle Lancashire Bomb 200g

Description:The one and only Truffle Lancashire Bomb.This cheese comes in a plastic-free wax coating, helping it to stay fresh for longer. It's rich flavour is cut through with the sweetness of Truffles.Matured for two years from Shorrocks in Lancashire. An award winning British cheese, we are very happy to be working with the Shorrockfamily. Theyhave been makingLancashire Cheesesince 1923, and Andrew Shorrock's Grandfather won Supreme Champion at the Preston OpenCheeseCompetition in 1938.
*Forallergyadvice please emailhello@nourishedcommunities.com
Delivery Information:
Parcel Delivery:We deliver all around UK every Thursday for

å£4.99.
Click and Collect in Store:Click and collect available every Wednesday, Saturday (10am - 7pm) and Sunday between 10am and 4pm.
*THERE IS NO MINIMUM SPEND FOR COLLECTION.
Our store on 15 Canonbury Lane, N12NS is five minutes walk from Highbury & Islington Station. Other nearby stations are Angel, Essex Road and Canobury Overgroud. We are Open Monday - Saturday 10am - 7pm and Sunday 10am - 4pm.
Own Van Delivery:
Ourvans deliver fresh produce across the following areas ofLondonon Wednesday & Sunday (see areas below). One can also visit us in our store that is Nourished Communities, 15 Canonbury Lane Monday - Saturday 10am - 7pm
and Sunday 10am - 4pm.
Our
vans
deliver across the following areas:N1, N4, N5, E8, N6, N7, N8, N10, N19, NW1, NW3, NW5, NW8and surrounding areas. Want us to come to you? Call us on 07392513293 oremail us on hello@nourishedcommunities.com
For more infomation please give us a call: 07392 513293