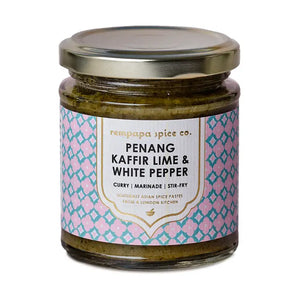 Penang Kaffir Lime & White Pepper Spice Paste
Penang is a cultural melting pot renowned for its diverse and creative hawker food. This Rempapa is… Delicately spiced, with a citrusy freshness and warmth from Sarawak white pepper.

Ingredients: Onion, Ginger, British Rapeseed Oil, Galangal, Garlic, Lime Juice, Kaffir Lime Leaf, Raw Sugar, Lemongrass, Sea Salt, Coriander, White Pepper, Cumin, Green Chilli.

180g (serves 4 to 6)
To make curry:

Serves 1-2. Over low-medium heat, gently fry 2 tablespoons of Rempapa in oil till fragrant. Add 200ml coconut milk and a big pinch of salt, and bring to a simmer. Add your favourite vegetables and/or protein to cook.*

* Vegans, this will be lovely with pretty much any vegetable! We especially love them with tofu and greens e.g. asparagus, kale, broccoli. Finish with crushed roasted peanuts and fresh coriander/ mint/ Thai basil.

Meat lovers, this is great with chicken, or seafood – especially mussels and flaky white fish. Simply simmer gently in the sauce till just cooked.

As a marinade:

Mix two tablespoons of Rempapa with 100ml coconut milk.

Fish lovers, try marinating fish or prawns with this mixture for 20 minutes, before placing on a hot barbecue, flipping once till cooked and charred.

Vegans, this will be great with cauliflower florets or courgettes. Toss to coat, and then cooking on 180C in the oven until golden.

As a flavour booster:

1 tablespoon will easily add a ton of spice and flavour to a serving of rice, noodles, and/or vegetables. Over low heat, gently fry Rempapa in oil till fragrant and then whack up the heat and tip in your choice of ingredients to stir fry.