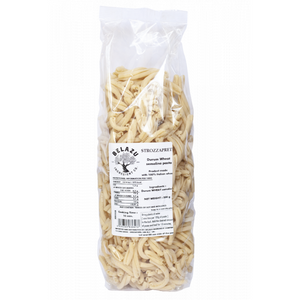 Strozzapreti Pasta 500g
Description

Strozzapreti is a hand-rolled pasta,typical of the Emilia-Romagna, Tuscany, Marche and Umbria regions of Italy as well as in the state of San Marino.Made in Sardinia, using 100% Italian durum wheat, this pasta is carefully dried at low temperatures which is essential in achieving that al dente bite once cooked, while also developing a unique flavour profile.
Usages:
Creamy sauces, such as one with ham, peas and cream or clams.

Punchy tomato sauces such as arrabiata.

Mix through with lentils, garlic and mushrooms or spinach, preserved lemon and olive oil.