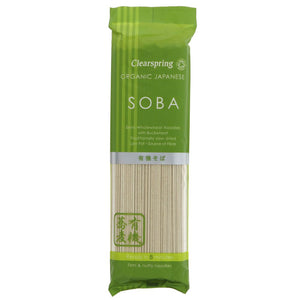 Ingredients: wheat flour* (67%), buckwheat flour* (32%), sea salt.
*organically grown
Quick to cook and delicious in flavour, Clearspring Organic Soba Noodles are satisfying and versatile. Artisan family producers slowly air dry and mature these noodles to concentrate their flavour. They can be used all year round in a wide range of Asian and Western dishes, including piping hot noodles in broth, satisfyingly rich stir fries, and succulent summer salads.
Clearspring Japanese Noodles are made to traditional recipes, and are all egg-free and certified organic.
What makes them special:
Traditional, slow dried organic noodles from Japan. Dried at low temperatures rather than artificially dried at 60-80 degrees. (ranges from 28-48 degrees)
Authentically made using the roll and cut method, not by the conventional force extruded method.
Firm, smooth noodles, satisfying and versatile
Cooks in 5 minutes
Source of protein and fibre, low in fat