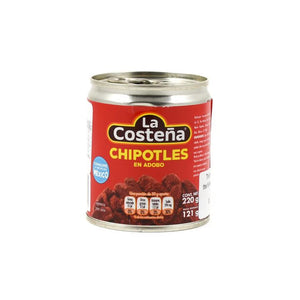 Name: Chipotle in Adobo 220g

Description:
Use La Costea chipotle peppers in adobo sauce to add big smoky warmth to Mexican dishes. Plump jalapeos are slowly smoked to mellow out their heat and give them smoky depth.
Here, they are canned in adobo sauce a tomato sauce with vinegar andspices making the chipotle a versatile ingredient.
Try roughly chopping the chipotles and adding to a Mexican meat stew, use a whole chipotle to top a Mexican-inspired burger, or even add a smoky twist to a homemade tomato ketchup.
Ingredients: chipotle peppers (25%), onions, vinegar, tomato paste, iodized salt, dried chillies, sugar,soybeanoilandspices.
Storage:once opened, move to a covered glass or plastic container. Refrigerate and use within 3 days.
*Forallergyadvice please emailhello@nourishedcommunities.com
Delivery Information:
Parcel Delivery:We deliver all around UK every Thursday for

å£4.99.
Click and Collect in Store:Click and collect available every Wednesday, Saturday (10am - 7pm) and Sunday between 10am and 4pm.
*THERE IS NO MINIMUM SPEND FOR COLLECTION.
Our store on 15 Canonbury Lane, N12NS is five minutes walk from Highbury & Islington Station. Other nearby stations are Angel, Essex Road and Canobury Overgroud. We are Open Monday - Saturday 10am - 7pm and Sunday 10am - 4pm.
Own Van Delivery:
Ourvans deliver fresh produce across the following areas ofLondonon Wednesday & Sunday (see areas below). One can also visit us in our store that is Nourished Communities, 15 Canonbury Lane Monday - Saturday 10am - 7pm
and Sunday 10am - 4pm.
Our
vans
deliver across the following areas:N1, N4, N5, E8, N6, N7, N8, N10, N19, NW1, NW3, NW5, NW8and surrounding areas. Want us to come to you? Call us on 07392513293 oremail us on hello@nourishedcommunities.com
For more infomation please give us a call: 07392 513293