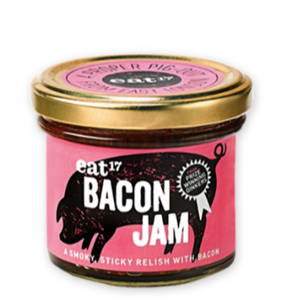 Bacon Jam 105g- A smoky, sticky relish with bacon.
Is it a jam, a spread or a relish?
When it tastes this good, who cares?
Jam it on some crusty bread or cheese.
Spread it on your sarnie or relish it in a burger.
It's proper tasty hot or cold.
Ingredients
Please note that allergy information (if applicable) is available below detailed in bold.
Cooked Onion (Onions 97%, Virgin Olive Oil 3%), Cooked Bacon (19%) (Pork Bellies, Salt, Preservative (E250), Antioxidant (E301). Made with more than 220g Raw Pork per 100g finished product), Apple Juice, Brown Sugar, White Sugar, Balsamic Vinegar, Lemon Juice, Sunflower Oil, Bourbon, Maple Syrup, Salt, Garlic, Treacle, Red Chilli, Black Pepper, Rosemary, Coffee, Thyme
Dietary Information
Produced in a factory which handles celery, eggs, fish, gluten, milk, nuts, mustard, sesame seeds, soybeans and sulphur. This product contains Gluten.
Nutrition
Typical values:
Per 100g: Energy926kj,Energy244Kcal,Fat7.8g,which Saturates2.2g,Carbohydrate33g,which Sugars27g, Protein8g,Salt0.75g.
Storage
Once opened, keep in the fridge and consume within 10 days or the best before date.
For best before date please see rim of jar.
Delivery Information:
- Click and Collect Wednesday, Saturday, Sunday at our store on 15 Canonbury Lane, N12AS. No minimum spend.
- Van delivery across the following post codes: N1, N4, N5, E8, N6, N7, N8, N19, NW1, NW3, NW2. å£4.99 If you live close to these post codes we can probably deliver to you too :) just email hello@nourishedcommunities.com to check!
- Postal Delivery all around the UK from å£4.99 for all orders above å£15
Remember to enter anyspecial deliveryinstructions!
For any moreallergy informationplease email hello@nourishedcommunities.com