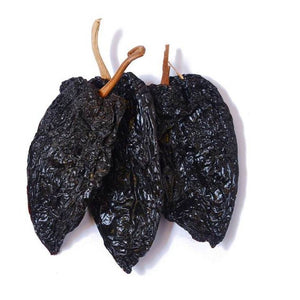 Chile Ancho (70g) - mild, sweet-tasting variety of a dried ripened poblano chilli.
Wrinkly-skinned ancho chillies are the most commonly used dried chilli in MÌ©xico with a fruity, earthy flavour thats indispensable whether youre making salsas or traditional sauces and stews like mole and carne con chile.
Oxblood Colour
Wrinkly + High flesh to skin ratio
Notes of: dried fruit + bitter chocolate
Serving Suggestion

Ancho chillies are perfect for stuffing. Wipe clean and soak in water until soft then cut a slit down one side of each chilli with scissors and carefully remove the seeds, keeping the stem intact. Cut peeled potatoes into å_ cm pieces and cook in salted boiling water until soft. Drain and mix together with chorizo, cut to the same size. Fry potato and chorizo in a little oil until slightly coloured, then spoon into the chillies. Puree tinned tomatoes with stock and cook until the consistency of single cream. Pour tomato sauce over the chillies, cover with foil and bake for half an hour.

Heat scale

3/10
How Hotis anAnchoPepper? Theanchopepper is considered to be of mild heat, though there is a bit of a kick to them. They measure between 1,000 2,000 Scoville Heat Units (SHU) on the Scoville Scale.
Storage and Preparation

Lightly toast then re-hydrate ancho chillies to release their flavour. Wipe clean and remove stems and seeds. Open out flat and toast briefly in a dry pan on a medium heat until fragrant, then soak in just boiled water for 15 minutes. Drain and blend to a paste with a splash of water before using. Always wash your hands after handling chillies. Store in a cool and dry place. Avoid exposure to light.

Delivery Information:
- Click and Collect Wednesday, Saturday, Sunday at our store on 15 Canonbury Lane, N12AS. No minimum spend.
- Van delivery across the following post codes: N1, N4, N5, E8, N6, N7, N8, N19, NW1, NW3, NW2. å£4.99 If you live close to these post codes we can probably deliver to you too :) just email hello@nourishedcommunities.com to check!
- Postal Delivery all around the UK from å£4.99 for all orders above å£15

Remember to enter anyspecial deliveryinstructions!

For any more allergy information please email hello@nourishedcommunities.com