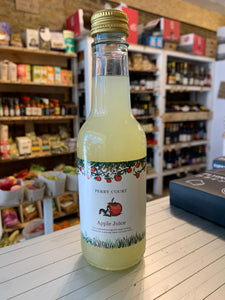 Perry Court Farm Apple Juice - 1 x 250ml
250ml home pressed apple juice. Made from different varieties of apples grown on the farm.
About the farm in Kent:
We grow countless varieties of apple and pear, most of them traditional heritage varieties that are not often seen on the supermarket shelf.
Delivery Information:
- Click and Collect Wednesday, Saturday, Sunday at our store on 15 Canonbury Lane, N12AS. No minimum spend.
- Van delivery across the following post codes: N1, N4, N5, E8, N6, N7, N8, N19, NW1, NW3, NW2. £4.99 If you live close to these post codes we can probably deliver to you too :) just email hello@nourishedcommunities.com to check!
- Postal Delivery all around the UK from £4.99 for all orders above £15
Remember to enter any special delivery instructions!
For any more allergy information please email hello@nourishedcommunities.com