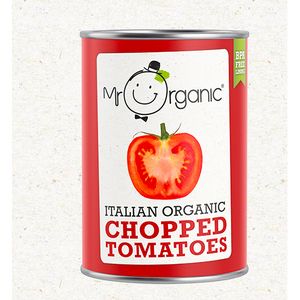 Name:

Mr Organic Chopped Tomatoes (400g)



Description:Juicy, sun-ripened Organic Italian tomatoes, packed within a few hours of harvest, keeping their flavour and freshness fully intact.
All our tomato products are made at our own sustainable production base next to our farms in Italy and we can track each tomato back to the field in which it was grown. We build long-lasting relationships with our farmers and when it comes to selecting our food, we make sure that only the best goes inside our jars and tins.
All Mr. Organic food is made with organically grown ingredients and love for our planet.
No Added Salt or Sugar
No Citric Acid
1 of Your 5 a Day
Produced in Italy
BPA Free Packaging
Organic & Natural
Vegan & Vegetarian
Zero Air Miles
The Company:Mr Organic says:
In February 2009, Valerio, Carlo and Kostas created Mr. Organic with a vision of a positive approach to every stage of our food production and beyond. To Valerio, working in this way seemed the only way forward for the environment and the world's wellbeing. However, he felt that his positive influence on the healthy food chain was limited by concentrating solely on the production side. He became determined to create a brand, represented by a cheeky, smiley mascot, that would capture the imaginations of people across the globe. And so, Mr Organic was born out of three generations of tomato expertise, combined with Valerio, Kostas and Carlos passion for providing great value organic food for people to enjoy every day. At Mr Organic, our aim is to encourage the consumption of honest and sustainable food across the globe one tomato at a time. And we do this by creating an honest, positive and sustainable food ethic, ultimately leading to a healthier, happier world! Today, we are proud to say that we are Italys largest 100% organic tomato producer.
*Forallergyadvice please emailhello@nourishedcommunities.com
Delivery Information:
Parcel Delivery:We deliver all around UK every Thursday for

å£4.99.
Click and Collect in Store:Click and collect available every Wednesday, Saturday (10am - 7pm) and Sunday between 10am and 4pm.
*THERE IS NO MINIMUM SPEND FOR COLLECTION.
Our store on 15 Canonbury Lane, N12NS is five minutes walk from Highbury & Islington Station. Other nearby stations are Angel, Essex Road and Canobury Overgroud. We are Open Monday - Saturday 10am - 7pm and Sunday 10am - 4pm.
Own Van Delivery:
Ourvans deliver fresh produce across the following areas ofLondonon Wednesday & Sunday (see areas below). One can also visit us in our store that is Nourished Communities, 15 Canonbury Lane Monday - Saturday 10am - 7pm
and Sunday 10am - 4pm.
Our
vans
deliver across the following areas:N1, N4, N5, E8, N6, N7, N8, N10, N19, NW1, NW3, NW5, NW8and surrounding areas. Want us to come to you? Call us on 07392513293 oremail us on hello@nourishedcommunities.com
For more infomation please give us a call: 07392 513293