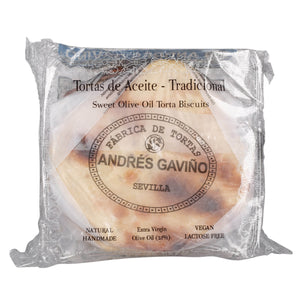 Gavino Traditional Sweet Olive Oil Biscuits 180g
Tortas Gaviño have been making our olive oil biscuits for years and we recently decided to switch to their branding. The packet may have changed the biscuits are exactly the same taste and quality.
The olive oil torta, a flat, unleavened biscuit, was first invented several hundred years ago to provide an easily portable snack for stagecoach passengers passing through the city of Seville.
Contains 5 tortas per pack
Vegan