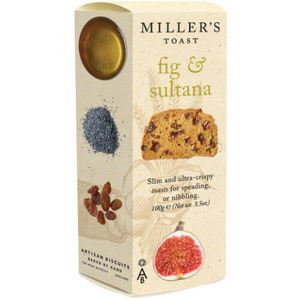 Artisan Biscuits is a family-run bakery in the Derbyshire Peak District. They have been using the same bronze rollers and biscuit-moulding method since they started over 100 years ago. Everything produced at Artisan Biscuits is made by hand, with their most treasured tools being over 80 years old.
Miller's Toast is Artisan Biscuits' range of thin, crispy perfected slices of toast.
Fig & Sultana Toasts is as its name suggests - made with high-quality dried dried figs and sultana. Delicious on its own, topped with your favourite ingredients or with a selection of fine cheeses. Fig & Sultana Toasts is the perfect match to foie gras and p̢t̩.