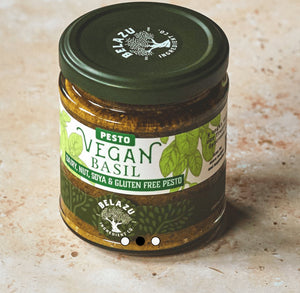 A vegan take on our classic Genovese pesto, delivering on both flavour and convenience, even without the cheese. Not just a dairy free pesto, this is also soya, nut and wheat free pesto.
Usages:
Fold through orzo pasta with red onions, griddled asparagus and broad beans. 
Take your pizza to the next level by drizzling with pesto for a fresh basil kick.
Bake into focaccia with sun-dried tomatoes and Borretane Balsamic Onions.