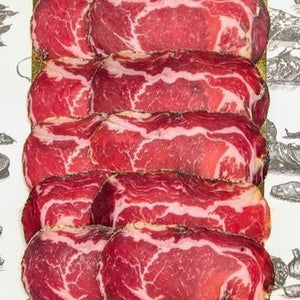 Sliced Coppa. This cured marbled pork collar is a great showcase for flavoursome, well raised British pork. Matured for 2-3 months, this cut develops a rich flavour.
Ingredients - British Pork Collar, Black Pepper, Cloves, Nutmeg, Juniper, Mace, Garlic, Sugar, Salt, E250, E252
Cobble Lane Cured say:
We makemodern British charcuterie using the highest welfare British meats. Our products are all cut, cured, smoked and hung by us, at our butchery in Islington. We believe that combining traditional European methods with Britains superior quality meats, creates a better product: better for animal welfare, better for British farmers and better for eating too!
Please contact hello@nourishedcommunities.com for any allergen information.