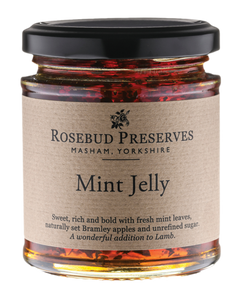 Mint Jelly 227g
Sweet, rich and bold with fresh mint leaves, naturally set Bramley apples and unrefined sugar. A wonderful addition to Lamb.
Jellies & Sauces
Rosebud jellies are bright, translucent and jewel-like. Made in the traditional manner from fresh Bramley apples, perfumed quinces, wild crab-apples and rowan berries, gathered from the wild. Our herb jelly captures the characteristic oils and unique flavours of locally grown mint. All are naturally set with unrefined cane sugar, a little lemon juice and fresh fruit alone. Perfect sweet and savoury accompaniments.
Ingredients
Bramley apples 70%, unrefined sugar, fresh lemon juice, fresh Yorkshire mint 1%.
Prepared with 70g of fruit per 100g. Total sugar content 67g per 100g.
Storage
Refrigerate after opening.
See base for ‰Û÷Best Before End.
Nutritional Information
Typical Values per 100g
Energy 1020kJ/239kcal
Fat 0g
of which saturates 0g
Carbohydrate 63g
of which sugars 63g
Protein 0.4g
Salt 0.01g