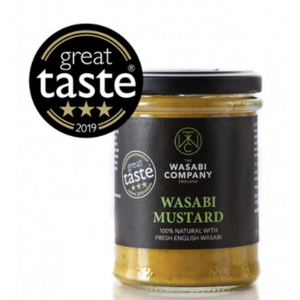 An original, all natural mustard recipe specifically created to combine with the authentic flavour of fresh wasabi grown on our Dorset and Hampshire farms. Delicious in ham sandwiches, with beef, patÌ» or cheese. Use in salad dressings and sauces for an orginal flavour with the unmistakable, aromatic pungency of fresh wasabi.
175g
Refrigerate once open
Ingredients:Vinegar, water,mustard(VAT) (oriental mustard powder, mustard bran), sugar, fresh wasabi (5%), fresh horseradish, salt, turmeric.
Allergens underlined.
Free from artificial flavourings, colourings and preservatives. May contain small lumps of grated wasabi.