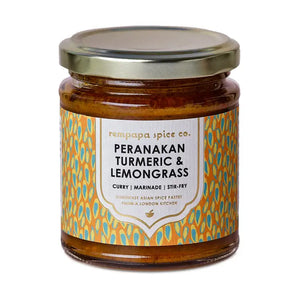 Peranakan Turmeric & Lemongrass Spice Paste
Peranakans, born from the marriage of early Chinese settlers with local Malays, combine the best of both cultures in the kitchen. This Rempapa is... Vibrant and aromatic, with the fragrance of lemongrass and turmeric.

Ingredients: Onion, Red Chilli, British Rapeseed Oil, Lime Juice, Lemongrass, Raw Sugar, Sea Salt, Turmeric, Coriander, White Pepper, Kaffir Lime Leaf.

180g (serves 4 to 6)
To make curry:

Serves 1-2. Over low-medium heat, gently fry 2 tablespoons of Rempapa in oil till fragrant. Add 200ml coconut milk and a big pinch of salt, and bring to a simmer. Add your favourite vegetables and/or protein to cook.*

* Vegans, this will be lovely with most vegetables, but we especially love them with robust ones e.g. cabbage, sweet potato, broccoli, green beans...Finish with crushed roasted peanuts and fresh coriander/ Vietnamese mint.

Meat lovers, this is great with poultry. For the best flavour and texture, sear your meats before simmering in the sauce till just tender.

As a marinade, to make the classic ayam panggang:

Mix half a jar of Rempapa with 200ml coconut milk and a big pinch of salt. This will cover 500g (about 4) skin-on, bone-on chicken thighs. Marinade overnight, then drain (reserving the marinade) and cook the chicken on 160C fan in the oven for an hour, or on the barbecue low and slow, until tender and charred. Simmer the reserved marinade with any chicken roasting juices for a lovely sauce, seasoning to taste at the end!

Vegans, try this with a whole cauliflower. Cover with the mixture above and bake for 45 min to 1 hour, basting occasionally, till tender in the middle and golden on the outside. You can of course do this with cauliflower florets if you want a quicker dinner.

As a flavour booster:

1 tablespoon will easily add a ton of spice and flavour to a serving of rice, noodles, and/or vegetables. Over low heat, gently fry Rempapa in oil till fragrant and then whack up the heat and tip in your choice of ingredients to stir fry.